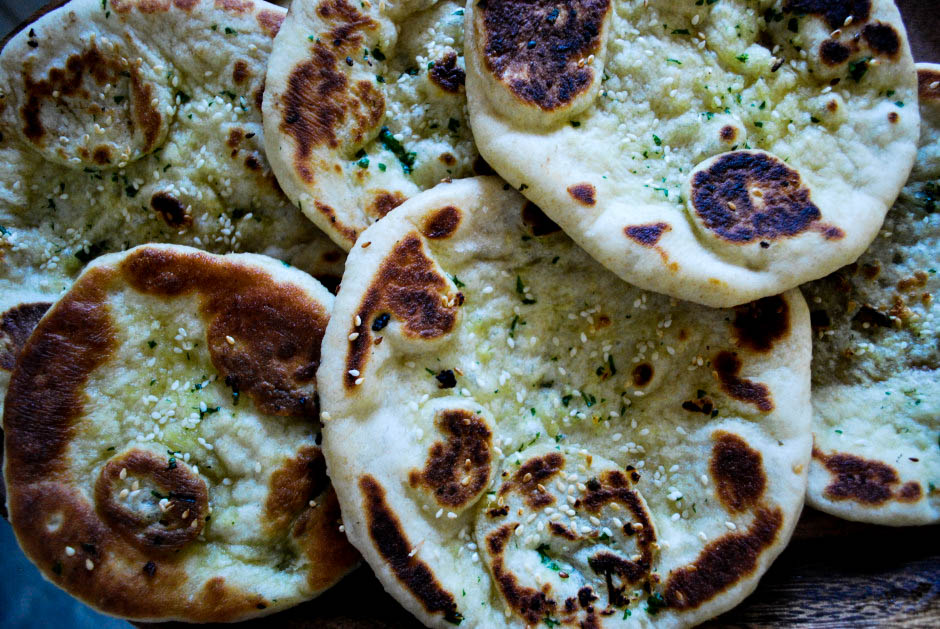 Naan-
2 & 3/4 cup bread flour
2 ¼ tsp yeast
2 tsp sugar
1 ½ tsp salt
1 ¼ cup hot water
¼ cup plain greek yogurt
1 tablespoon olive oil
Oil-
¼ cup olive oil
1 clove of garlic minced
¼ cup cilantro chopped
Sesame seeds for garnish
Since this takes a few hours with rising, rolling out and cooking on skillet, make sure you start the dough about 3 hours before you want to eat and roll out dough about an hour before. The first time you don't want to be rushed. It keeps well in a warm oven.
Combine flour, yeast, salt and sugar in stand mixer and mix for a few minutes. Add hot water, yogurt and olive oil. Let mixer knead for about 5 minutes. Dough should not stick to the sides but it might still stick to the bottom of the bowl a little bit. I like to knead mine by hand for another minute or two. Shape dough into a ball and place in a lightly oiled bowl. Cover with a towel and put in the oven with the light on. Dough should double in size. This can take as little as 1 hour but I usually give it 2 hours. Drizzle pan with olive oil and warm up on medium heat while you separate dough into 12 small balls. On a floured surface, roll out dough into small circles. Let sit for about 5- 10 minutes and make your oil for brushing on bread.
With a pastry brush put mixture on each Naan dough. Place on skillet, oiled side down, 1-2 at a time, depending on the size of skillet you have. Brush oil on other side of dough quickly before it starts to puff. Sprinkle with sesame seeds. Let cook for about 3-5 minutes, until dough starts to puff and other side becomes golden brown. Flip dough and cook for another 3-5 minutes. Transfer to warm oven and continue cooking the rest of Naan on the skillet.