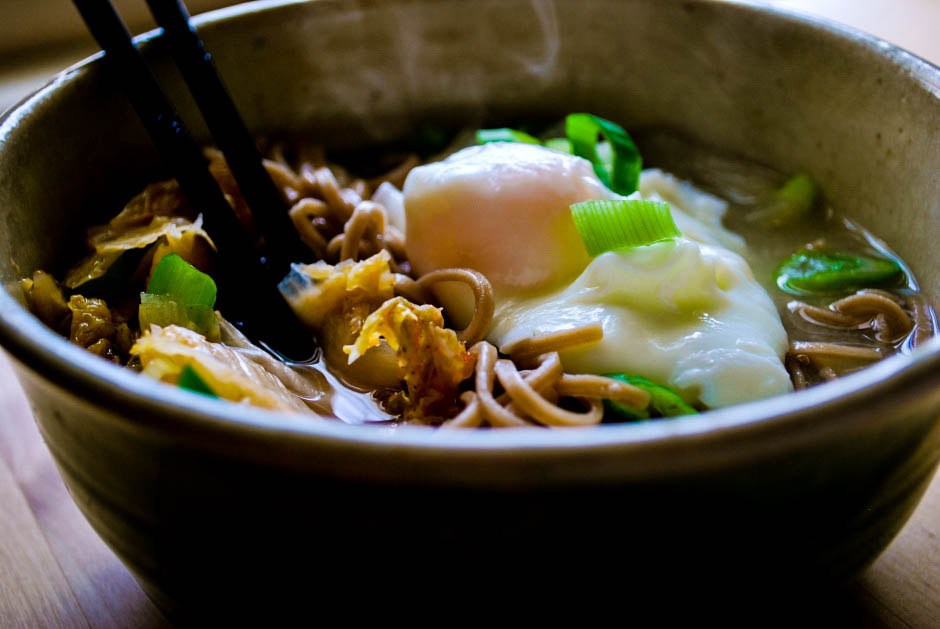 The moment I saw this recipe on one of my favorite blogs my mouth started watering. So much so that I immediately bundled us all up to pedal to the store. I opened the front door and very quickly remembered it was -12, and then with the crazy casper winds, my phone told me it "felt like," -22. I felt like less of a wimp when even the locals were complaining. So, I was a hermit for an entire week and this bowl had to wait until the weekend, but I can tell you it was worth the wait. Sometimes it's hard to branch out from my normal go-to flavors, but this bowl is not intimidating, fairly easy, delicious, and full of everything I have been craving. You can make your own kimchi here, or you can just buy some like I did.
Kimchi Noodles
Recipe from Happy Yolks
Serves 4
1 package of soba noodles
2 cups kimchi, or more to taste
1 bunch of green onions
4 poached eggs
Broth-
8 cups filtered water
1 lemon, sliced
2 onions, peeled and sliced
1 apple, sliced
8 cloves of crushed garlic
2-3 inch chunk of ginger root
6 tbsp. miso paste
Place all broth ingredients, minus miso paste, in a large pot or dutch oven. Bring to a boil, and immediately cover and reduce to lowest heat. Let simmer for 30 minutes. Add miso, stir well, cover and set aside. Bring medium pot of water to a boil and cook noodles as directed on package. While noodles are cooking, poach your eggs to your liking. Set eggs aside in cold water to prevent them from continuing to cook. Drain water from noodles.
For each bowl potion out…
2 cups noodles
1/2 cup kimchi, or more to taste
2 cups broth
Poached egg
Green onions thinly sliced